All our apartments are self-contained, with fully equipped kitchens comprising all the appliances and utensils you'll need. Quebecs Luxury Apartments's bathrooms are equally as well-catered, with walk-in wet room style showers, dressing gowns, towels and designer Elemis Sp@Home beauty products bringing the finer touch to your visit to Leeds.
One-Bedroom Apartments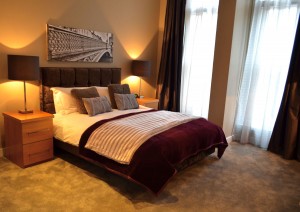 Quebecs Luxury Apartments's one-bedroom apartments are refreshingly roomy. In fact our elegantly stylish one-bedroom accommodation provide a living space which is twice the size of a typical hotel suite. Each apartment boasts a double bedroom with its own walk in wet-room style shower, meaning you don't have to walk more than a few steps to freshen up in comfort. With a myriad of contemporary amenities designed to make your stay in Leeds as convenient and relaxed as possible, our one-bedroom apartments radiate style, sophistication and prestige.
With a self-contained living room our apartments are ideal for meetings, meaning you won't have to hire a venue to meet up with clients, colleagues and guests.
Two-Bedroom Apartments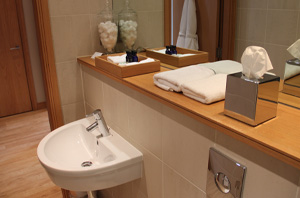 With a spacious downstairs living room / kitchen and two upstairs double en-suite bedrooms with en-suite walk in wet-room style showers, guests staying in our standard duplex two-bedroom apartments can really spread out, relax and feel at home. These luxury two-bedroom apartments boast a tasteful contemporary design which radiates style, elegance and grace.
All our apartments have been substantially refurbished and enhanced in 2014 with new carpets, sofas, bed-heads, painting, artwork and soft furnishings. Our accommodation has never looked better! Please be aware that all of our standard two bedroom apartments do have stairs.
Two-Bedroom Superior Apartments
We have only two of these wonderful apartments which are the largest at Residence. They are both duplex with one upstairs and one downstairs bedroom and have full baths in addition to the walk-in wet-room showers. Please contact us directly for more information or book through our website as this is the only place online they feature.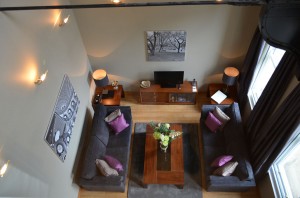 Parking
If you are travelling to Leeds by car, we recommend two nearby multistorey car parks, both with a prebooking system.
Either:
Q-Park Sovereign Square, address Swinegate, LS1 4AG, web address
Offers 35% discount, use the code QUE35 and follow the prebook instructions in their website
6 minutes walking distance
Or:
APCOA Train station, address Aire Street, LS1 4HH, web address
2 minutes walking distance